How Cruisin' the Coast Works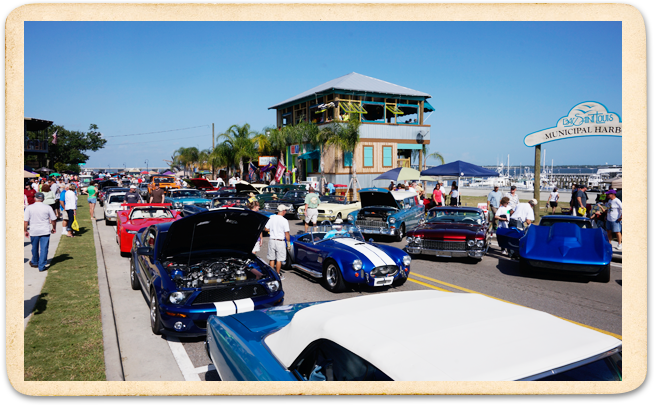 Registered Participant
Your first stop is the Registration Tent at Cruise Central… to register if you haven't, and to pick up your Registration Packet if you are Pre-Registered. The packet contains many things, but the main items are your:
Schedule of Events – so you will know what is going on and where.
Window ID Card – so you can go to each site as many times as you like.
Location of Sites
Cruise Central/Registration Tent: 200 E. Beach Blvd., Gulfport, MS – a few miles east of Hwy. 49 and west of Courthouse Road on the north side of Hwy. 90
Mississippi Coast Coliseum, where our Swap Meet is held (not a stamping site)
D'Iberville at Scarlet Pearl Casino Resort
Ocean Springs downtown area
Edgewater Mall parking area on the West side of the Mall
Pass Christian downtown area
Bay St. Louis downtown area
Pascagoula Beach Park
Site Hours of Operation
Gulfport Cruise Central Registration Tent:
Monday – open from 11 a.m. to 5 p.m.
Tuesday – Saturday – open 9 a.m. – 5 p.m.
Thursday – 2024 registration open Noon – 5 p.m.
Saturday – 9 a.m. – Noon for 2023 registration and 9 a.m. – 5 p.m. for 2024 registration
Sunday – 8 a.m. – Noon for 2024 registration only
All the other sites are open Thursday – Saturday 9 a.m. – 5 p.m.
Pre-Registration Confirmation Cards
If you Pre-Registered before August 15th, you will have received a Confirmation Card in the mail. Turn this card in at the Registration Tent to pick up your Registration Packet and the card will go into a drawing to be held on Sunday. You MUST bring this card to be in the drawing. (We are not responsible for lost, stolen or forgotten cards.)
Getting Into the Venues
Your Window ID Card is your entry into the different venues. This card was in your registration packet you picked up and should be in your car window or on the dash the rest of your visit. With your Window ID Card you may enter a venue as many times as you wish and stay as long as the site is open. Check your Schedule of Events to see when you want to visit each site.
Drawings and Awards
Sunday morning starting at 8 a.m. (not necessarily in this order):
10 Pre-registration Confirmation Card $500 Drawings
30 Stamping Card $500 Drawings
All other announcements and Awards
Gene Oswalt Volunteer of the Year Award
Make-A-Wish Raffle Vehicle
We finish about 11 a.m. or Noon.
You do not have to be present to win. You can turn in your Venue Stamp card Thursday 1 p.m. – 5 p.m., to Saturday 9 a.m. – 5 p.m. at the Registration Tent or at the venue where you get your last stamp. If you wish to keep it until Sunday morning, you turn it in 8 – 8:30 a.m.
Spectators
For anyone that does not have a vehicle registered for Cruisin' The Coast®:
You may park outside the Sites and walk in free of charge.
Look at the vehicles, enjoy the music and have fun. Please do not touch the vehicles without the owner's permission.
Overview
Each Site is a festival on its own, with live music, food & beverage vendors, restroom facilities and of course, the vehicles. Each site has parking for registered participants and is within walking distance for spectators.
In addition to the venues, we feature many controlled events including, but not limited to, the following:
Swap Meet
Sock Hop
Car Corral
After the Cruisin' The Coast® Sites close each day, there will be evening activities at different locations.
There will be an Automobile Auction at the Mississippi Coast Coliseum.
Keep checking the schedule on our website for updates on entertainment and events that will be held during Cruisin' The Coast®.