Letter from the Executive Director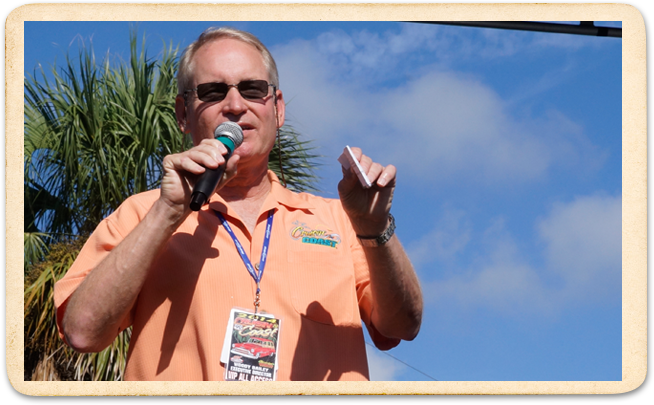 Hello Everyone:
As you read this newsletter be assured that we are all working hard to get Cruisin' The Coast 2018 ready for your visit. In fact, the entire Mississippi Gulf Coast is getting ready for Cruisin' week.
I encourage you to read the schedule closely. There's no great big changes to our event this year, just some small tweaks. Pascagoula will be back as an "incentivised" stamping site, but that will happen in a different location. We'll have great music from the 50s and 60s, but will also slip-in some bands that play hits from the 70s and 80s.
We are happy to announce that Vicari Auctions has come aboard as the title sponsor of our swap meet. We've had a wonderful relationship with their crew and we know that the Vicari Auction's Cruisin' The Coast Swap Meet will be even better with their support.
Some exciting news on the celebrity front. Dennis Gage, Courtney Hansen and Cristy Lee are scheduled to make return appearances. This year, we're bringing aboard Joe and Amanda Martin from Martin Brothers Customs and their hit TV show, Iron Resurrection. They will be registering a vehicle and participating in CTC, too! Check the schedule for all of our celebrity appearances.
The Street Rodder Road Tour will make another stop at CTC this year. They loved us so much last year, they decided on a return visit. We'll post their visit schedule at a later date.
Just before press time, we received word that the burn-out event will again take place in Pass Christian Thursday evening. Details are forthcoming, so stay tuned to our website and Facebook page for more information.
As of this writing, we have vehicles from 43 states and Canada registered. Yes, we have cruisers from Alaska, California, Idaho, Michigan, Pennsylvania and Rhode Island. We appreciate each and every one of you, no matter where you hail from. And remember, early registration ends August 15, so hurry up and get your registration in for the Biggest Block Party in America!
We'll see you soon,


Sherwood R. "Woody" Bailey
Vice Chairman & Executive Director