Letter from the Executive Director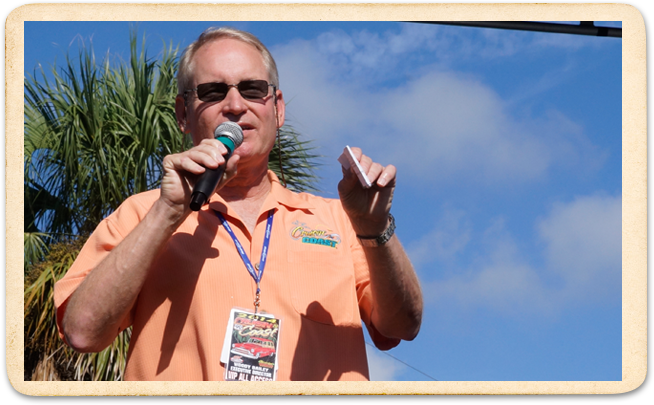 Hello Everyone,
It has been a super year for Cruisin' The Coast, and it is promising to be a great event, celebrating our 27th anniversary. Here is just a snapshot of what's going on:
You'll notice our logo is a bit different for our event this year. We welcome aboard Mississippi Gulf Fresh Seafood as the Presenting Sponsor for the 2023 event. You'll have the opportunity to sample some of the best seafood on the planet right at Cruise Central on Monday, Tuesday, and Thursday of Cruisin' Week. The Mississippi Gulf Fresh Seafood team will be there from 9-11 a.m. and from 1- 4 p.m.
CTC will now go practically from state line to state line with the addition of a new event, Hot Rods & Hospitality in Waveland, which is just west of Bay St. Louis. We haven't officially visited there in over a decade and are thrilled to be back on Coleman Ave. Details are within.
Working closely with the City of Pass Christian, the Burn 'Em Up In The Pass event will move to Fleitas Ave. Actually, it will be closer to the downtown area, which makes it a shorter walk for you and provides more safety and control for this popular event.
And take a look at our Celebrity Appearances for this year. We welcome Chris Jacobs of "Overhaulin'" to our CTC family. He will make the rounds Sunday- Tuesday. He joins Dennis Gage (who will be filming an episode of "My Classic Car"), Courtney Hansen, Cristy Lee, and Joe and
Amanda Martin. Lots of star power all up and down the coast.
A late addition to our schedule are appearances by the iconic Oscar Mayer Frankmobile at CTC this year. It will be in Pass Christian all day on Thursday, Oct. 5 and at Cruise Central at Centennial Plaza on Friday, Oct. 6. Appearances will be from 9 a.m.-5 p.m. both days! Swing by and see if you can snag a whistle!
As most of you may know, we were again voted as the best car show in the country by followers of the USAToday 10Best awards. We thank you for keeping us on top! We also had the honor of being selected for the Pinnacle Award as the outstanding large event in the State of Mississippi and we recently learned that we were also selected as the Best Fall Festival by Mississippi Magazine. To top it off, we were recently presented an award as the Top Donor to Make-A-Wish Mississippi. None of this would be possible without you!
Read through the program and pocket schedule, make your plans, and have a great time cruisin' on Highway 90. Please see www.cruisinthecoast.com and our Facebook page for updates. Who knows, there may be more fun to come!


Sherwood R. "Woody" Bailey, Jr.
Vice Chairman & Executive Director